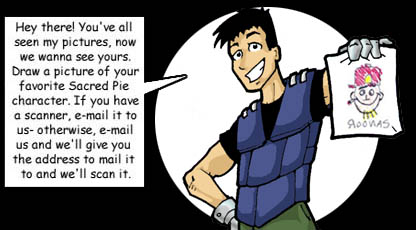 Want to submit? E-MAIL US!

NEW IMAGES AT THE TOP; OLDIES (but goodies) AT THE BOTTOM
***********************************************************************************
| | | |
| --- | --- | --- |
| From Lurker | From Wild Blue | From Yaphet |
| | | |
| --- | --- | --- |
| From Corinthia | From Yaphet | From Kench |
| | | |
| --- | --- | --- |
| From Jonathan | From Fox | From Karin |
| | | |
| --- | --- | --- |
| From Jen | From Jen | From Jen |
| | | |
| --- | --- | --- |
| From Jermisel | From Flurry | From Flurry |
| | | |
| --- | --- | --- |
| From Nemiah | From Jen | From Jenny |
| | | |
| --- | --- | --- |
| From Maeanna | From Jonathan | From Carissa |
| | | |
| --- | --- | --- |
| From Antoine | From Dominique | From Jacquelyne |
| | | |
| --- | --- | --- |
| From From Matt | From Keith | From Jenny |
| | | |
| --- | --- | --- |
| From Jenny | From Jenny | From Jenny |
| | | |
| --- | --- | --- |
| From Yaphet | From Clayton | From Travis |
| | | |
| --- | --- | --- |
| From Nicholas | From Kaze | From Brie |
| | | |
| --- | --- | --- |
| From Scott | From Eleanor | From Matt |
| | | |
| --- | --- | --- |
| From Inkdrop | From John-boy | From Eric |
| | | |
| --- | --- | --- |
| From Clayton | From Mase | From Josh |
| | | |
| --- | --- | --- |
| From Bob | From Meg | From Oscar |
| | | |
| --- | --- | --- |
| From Alan | From Alan | From Dan |
| | | |
| --- | --- | --- |
| From Dean | From Alan | From Clayton |
| | | |
| --- | --- | --- |
| From Clayton | From Sid | From "Chipmunk" |
| | | |
| --- | --- | --- |
| From Chris | From Carter | From The Roonas |
| | | |
| --- | --- | --- |
| From Gutz | From Raz | From Methane |
**********************************************************************************
This section is dedicated to ANGRY HATTER, one of our biggest fans and the hands down biggest fan art contributor.

Some of these are his colored versions of Sacred Pie pages/images, and some are all him. Can you guess which are which?

Oh, yeah- and he's the colorist for the PENANCE side story. Blam.
*************************************************************************************